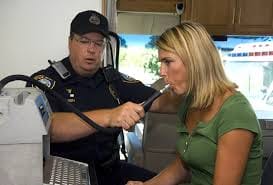 In a nutshell, the answer is "no," but it is very difficult to defend these cases, at least for the most part.
During the initial DWI crackdown in the mid-1990s, Texas and most other states adopted per se DWI laws. Before this change, an above-the-limit BAC result was basically a presumption of intoxication. After the change, defendants who had a BAC above the legal limit were intoxicated as a matter of law.
Consequently, the breath test conviction rate shot up to over 80 percent. The blood test conviction rate was even higher.
Nevertheless, there are still some ways to beat the odds and obtain a not-guilty verdict in a test case. These defenses are most effective in borderline cases, like a .08 or .09 BAC level.
Challenging Breathalyzer Results
A successful Breathalyzer test challenge usually begins with understanding how these machines work. Today's Breathalyzer is essentially a 1950s Drunk-o-Meter with more bells and whistles. Both tests measured alcohol-like particles in the breath.
Furthermore, the Breathalyzer does not measure Blood Alcohol Content, which is the legal standard. Instead, the Breathalyzer measures breath alcohol content and uses that number to estimate BAC. That extra step often makes Breathalyzer results a lot shakier than they appear.
Parker County prosecutors typically use Breathalyzer technicians to substantiate the results in court. These technicians are not degreed chemists. Additionally, in many cases, all their Breathalyzer knowledge came from police-sponsored seminars.
To counter the Breathalyzer tech, a Weatherford DWI defense attorney can call a degreed chemist to the stand. This chemist can point out specific Breathalyzer flaws, such as:
Mouth Alcohol: If the defendant burped, vomited, or belched in the half-hour prior to the test, alcohol particles from the stomach rushed into the mouth. The breath alcohol level will therefore be artificially high.
Acetone: Diabetics, smokers, and certain other people have high acetone levels in their bodies. Breathalyzers register these particles as ethanol. Once again, the breath test result, and therefore the BAC estimate, will be artificially high.
Unabsorbed Alcohol: Most people absorb most alcohol through the liver and into the blood. That's a slower process than the stomach-to-bloodstream avenue. So, if the defendant had been drinking within the hour or so prior to the test, most of that alcohol is in the liver and not in the blood.
If one juror has a reasonable doubt as to the Breathalyzer result, the defendant may be found not guilty in court.
Contesting Blood Test Results
Physical evidence, such as blood test results, often have chain of custody issues. In most cases, the sample must travel from a clinic to a laboratory to a police evidence room to the courthouse. That is a lot of moving parts. A gap in the chain of custody does not invalidate the evidence, but it does raise a question as to its validity.
Additionally, since the DWI blood test preserves the sample, a Weatherford DWI defense attorney can ask for a retest. Many times, that retest yields different results from a police-affiliated clinic. If nothing else, a retest may enable the tried and true "sink-and-ink" defense. When multiple scientists throw out complex scientific terms, many jurors become dazed and confused.
An adverse chemical test result does not automatically mean that a person was driving while intoxicated. For a free consultation with an experienced criminal defense attorney in Weatherford, contact Herreth Law. We routinely handle matters in Parker County and nearby jurisdictions.